Greg over at
Smedley's Smorgasboard
is have a fun linky! We all know when teaching kids of all ages that they really do say the darndest things!
So here is my darndest thing from one of my students a few years ago. Let me start by telling you, I am a huge Philadelphia Eagles fan and I mean HUGE! All my students know it, some even come in Monday morning with treats to make me feel better if the Eagles loose. Yes, most of my students will ask their parents about the Eagles because of me. Well one year my little kindergartners said to me out of no where..."Mrs. G, when I grow up, I am going to be an Eagles football player so I can win for you and you won't have to be sad on Sundays anymore." I just loved this comment. I guess he is learning early what its like sometimes being an Eagles fan:(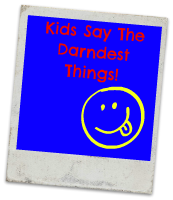 You don't want to miss this giveaway! I know we all love clipart!
When she reaches 500 she is going to have a giveaway, so go and follow her blog!
Keeping it short and sweet, see ya next time!