Well today was another great tax free shopping day. And I am excited to announce I added to my shoe collection! I just love DSW and when they sent me a coupon for $20 off because they missed me, I didn't think twice about driving 30 minutes away to the nearest store. I got both of these babies for under $50!
What do you think? The second pair are actually my lowest pair of heels. They are so comfy! I can't wait to get back to school and show off my new kicks! Now onto more school shopping...
Yesterday I found these cute cut outs at Lakeshore. I usually have my students draw themselves on cutouts that I make from construction paper or copy paper, but this is going to save me so much time. They are pretty sturdy too, so I will not have any saggy heads when we put the yarn on for hair. That always drove me nuts! This year no saggy heads and pretty hair here we come! They even come in different skin colors. Can't wait to show our "Shape People" off at open house. My students' parents always love guessing who's who in our class.
I also bought the magnetic paper pockets and sassy font. Not sure how I'm going to use either of them but I thought they were so cool.
Another great buy for all you Laminator lovelies, 200 laminating sheets for under $20 found at SAMS club. I know when I get back to school I have a lot of laminating to do!
Finally, Target was also on my back to school shopping list. I bought 10 composition books for my class and I am having my husband cut them in half. Each composition book was only 50 cents, so cutting them in half I now only spent 25 centers per student. I can't wait to use these in my class. They come in a lot of different colors too!
Pinterest blog hop! I am addicted to Pinterest, so I thought this blog hop was so Pinterest-ing! I am just getting my Pinterest a little more organized because my "school" board was beginning to get a little overwhelming. I can't wait to connect with other great educators on Pinterest.
Before you leave my blog spot check out these great giveaways!
Patti over at Primary Pizzazz is having her 100 Follower giveaway. She has some excellent prizes, you don't want to miss this one.
Layla over at Fancy Free in Fourth is have her 300 follower giveaway!
Angie at Rulin' the Roost is giving away $80 to spend at Vistaprint!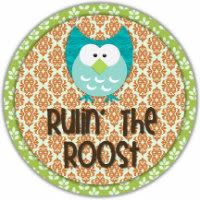 Second grade perks is having a great giveaway!
Check out this cute tote! Amber at Synonym Rolls and Antonym Moments is giving this away!
Fourth Grade Flipper is giving away an Amazon Gift Card!
Literacy and Laughter is giving away a Target gift card!
Yay Third Grade is also having a giveaway!